Our Platform
RealCME provides an end-to-end, cloud-based solution for CME providers including
all required reporting and record keeping.
A comprehensive suite of tools that streamline designing, authoring, and assessing highly innovative, engaging, innovative learning experiences without the need for technical resources.
 RealCME Components Include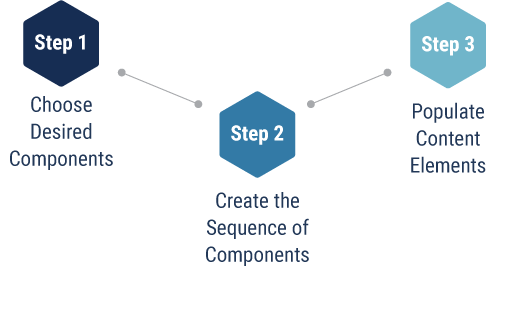 Course Builder
Design unique educational and training experiences in minutes that precisely meet your needs utilizing a palate of potential components.  Or choose from our Template Library, offering a large selection of tried and tested activity formats.
Authoring Platform
Attain unparalleled efficiency and convenience in the collaborative development of an educational course or training module. It offers an easy to use, web browser interface, a permission-based, multi-use environment, full content editing functionalities, full support of all major multimedia formats, and simple and flexible integration of assessment items
Reporting Tool
Access a robust collection of real-time reports at your convenience through an innovative online, browser-based reporting platform; reports can be refined for a particular clinician type, date range, region, or channel (web, mobile), and exported into Excel or PDF versions. Reporting tool users can also schedule the delivery of one or more reports via email.
Assessment Tools
Seamlessly integrate a patented, highly dynamic, comprehensive, and reliable assessment platform, RealMeasure® into any course or curriculum. The platform facilitates the evaluation of the effectiveness and impact of an intervention at the curriculum and activity level.
Participant Toolset
RealCME offers each participant an innovative knowledge management platform to track their mastery of a particular subject matter in real-time as they engage in courses; they can also set up and track goals, review completed course transcript and scores, and schedule follow-up activities.
Are you ready to take your CME to the next level?